Had a scary close call today. We may've joked and laughed our way through this very long day, but in the end we got to go home and for many people they no longer have a home to go back to.
Every January, my partner and I go down to Tasmania to visit my parents in Hobart and, even though it's always summer, it is frequently rainy, windy, cold, hot, sunny and snowy and that's before lunch. This January it was more on the hot, sunny, dry side, reaching a record of 41.8 degrees celsius (107 degrees fahrenheit) and everything was brown, brittle and hazy.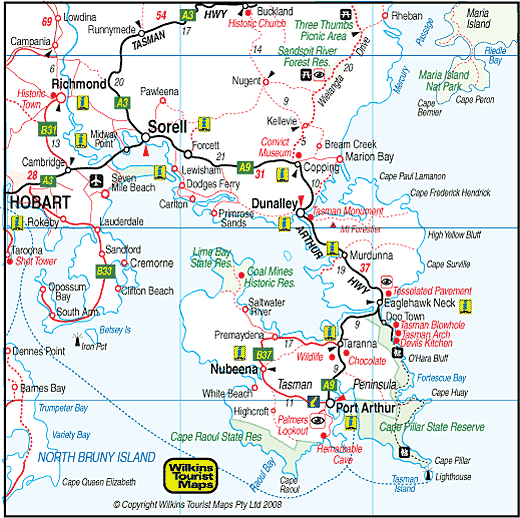 Ben and I went on Pennicott's Tasman Island cruise, choosing the tour bus (thankfully as I can't even begin to imagine how this day could've ended) rather than my parent's car: an hour and a half trip through the towns of Dunalley, Murdunna and Doo Town. Towns that this morning were quietly busy- lawns being watered, letter boxes checked, breakfasts eaten- when now there's nothing left. On the trip down there was some smoke, a few grass fires we could see from the road like hungry eyes flashing amongst the scrub, but we didn't pay it much mind. This is Australia, we'd been brought up in summers of intense heat and the threat of fires. When I was small I remember my parents packing a bag to keep by the door in case we had to flee before a fire and it's something I do even now, a tub ready to be grabbed full of photos and old journals and my childhood teddy bear. So while the smoke drifted across the road in hazy waves, our thoughts were on the three hour jet-boat ride out around Tasman Island and if we'd see dolphins or not. We did see dolphins, and a whale, jellyfish, amazing caves and rock formations and even dozens of albatrosses, which, we were told, was a good omen.
Back at the Port Arthur office, we were informed that the only road out through Dunalley was closed due to fires, but the day was still young and we'd see how things panned out. We went back to Stewarts Bay Lodge, our meals arriving just in time for the power to go out and we spent a while just hanging about, waiting for the roads to clear. At this point we were told tentatively it would be about 6pm. Not too bad for us, but one European couple had a connecting 9pm flight to catch back home and for a while we thought the boats would come round from Pirates Bay and get us but the water was too rough. I kept in contact with Mum and Dad but then one of the telecommunications towers was taken out and it was almost impossible to call them.
We went for a swim, as you do, and it was bizarre. Kids were frolicking in the water, people were sun-baking, Ben waded out in his underwear and on the horizon a dark threatening cloud.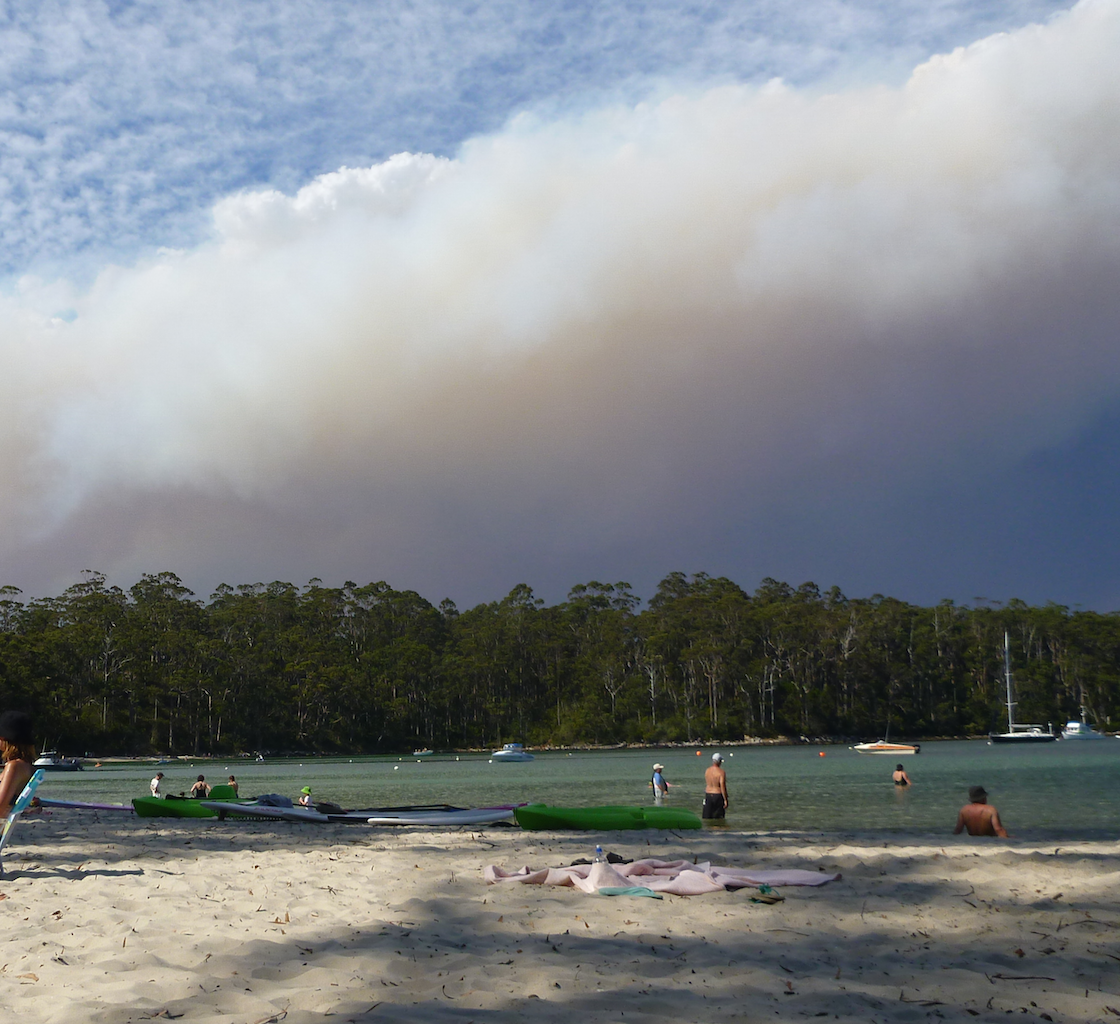 An hour later we were evacuated from the Lodge to the historical site of Port Arthur where we sat under the trees in front of the old prison barracks, the sun a deep, burnt orange and the air sweet with smoke.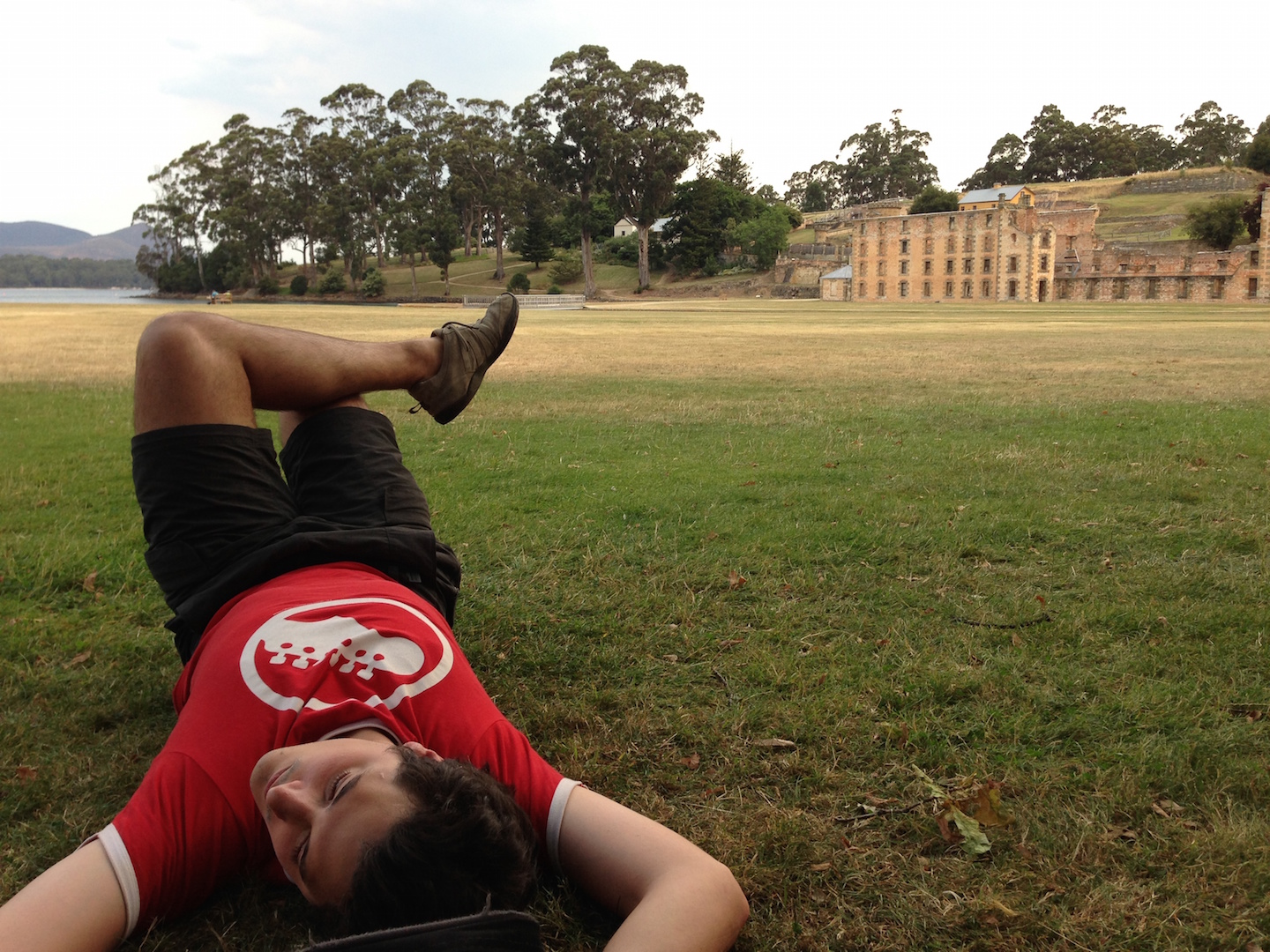 Then we were moved in a convoy to the Nubenna Civics Centre where everyone was seeking refuge. It was amazing seeing everyone, locals and tourists alike, going above and beyond. No one was panicking, there were volunteers handing out free sandwiches and sausage rolls, and there were a few cricket games set up between parked cars. Even though the grass was spiky and dead, the sky was pretty awe inspiring, the sun crimson and the company was positive and friendly. We were informed that there was no way we'd be bused out within the next 24 hours so we began to consider spending the night on the bus, consolidating our water supplies and wishing I'd packed a pack of cards. We were in Dr Sueus' Waiting Place, meeting people who'd left their homes with only the clothes on their backs, families who'd grabbed the family pets and a tub of Nutella to keep the kids happy.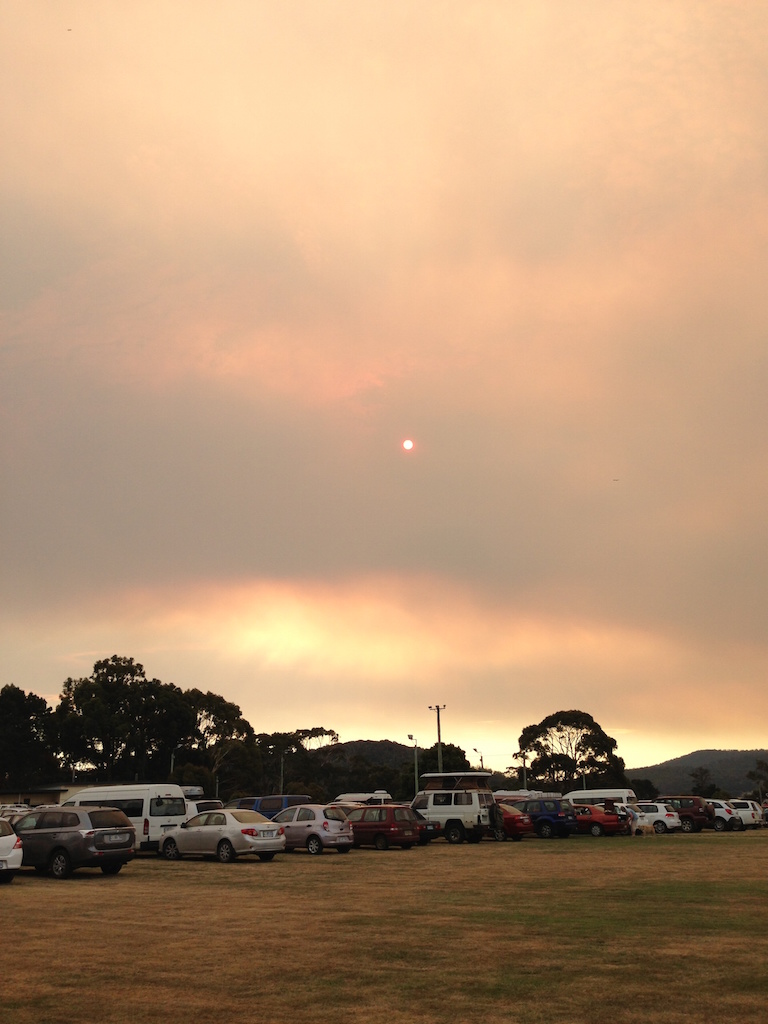 We weren't waiting long when one of the bus drivers offered for all forty of us on the tour to go back to his family's holiday home at White Beach, near Nubeena. Back onto the buses, I have to admit we'd seen more of the peninsula than we'd ever expected. It was dinner time when we reached the holiday home, not particularly large and we still didn't have power but the view was stunning. The group was split in two, half of us staying at the driver's holiday home and the rest heading next door to his daughter's holiday house. Strangers welcoming strangers. We dragged out all the furniture onto their veranda to catch the breeze and we settled in for an undeterminable amount of time. Even though the water pumps weren't working, we could still use the toilet with a bucket of water to flush (and even in the dark, it was more civil than what had been in store for us at the Civics Centre) and food wasn't a problem. Everyone shared what we had: there was a BBQ with sausages, rice, spaghetti and all sorts of hot food cooked on the portable stove.
By 9pm, the hills were glowing and we listened warily to the radio while trying to keep our spirits up until we got news that Pennicott himself was driving a jet boat from Kettering to a wharf in Nubeena and taking us home. I managed to get one last text to Mum and Dad and hoped they received it. In the dark we bundled ourselves onto the bus with the end of this very long day insight. Arriving at the wharf, everyone cheered though someone joked we hadn't quite made it yet. The boat wasn't there when we arrived so we waited watching the red glow over the ridge line and thinking about all the people who were still stuck. Domo, one of our guides, was there even though he'd lost his home. His teenage daughters were on the other side of the fire but safe, yet he wasn't sure if the animals in his care were okay or not. Despite all this he was so positive! Telling us to look out for bio-luminescent wildlife on our trip back.
When the jet boat arrived, we were loaded and strapped in. We left behind our bus drivers who had to stay with the buses and a crowd of people who'd come down to the wharf, hoping to escape as well. The trip back to Hobart took an hour and fifteen minutes and was thrilling to say the least. The boat was fitted with a massive high beam and we could see the glowing red fires burning fiercely as we raced past the hills. We went through hot pockets of air like we'd been wrapped in warm towels and then the next we were chilled to the bone. It felt like we'd been slapped. It was a sombre crossing.
Coming up the Derwent River, the lights on the hill looked like Christmas lights and when we finally docked it was midnight and we were all a windswept mess. Mum and Dad were waiting for us and it was such a relief. We were tired, drained, but finally safe after hours of anxiousness, not knowing or being about to do anything.
My thoughts stay with those still there: the Firees (fire-fighters) doing their best to save lives and properties, the families that looked after us still in their holiday homes, everyone still trapped, and those who are waiting to hear news. The night will soon be over, the fires will die down, and rebuilding lives will commence. It'll be a long time before this part of Australia will recover.